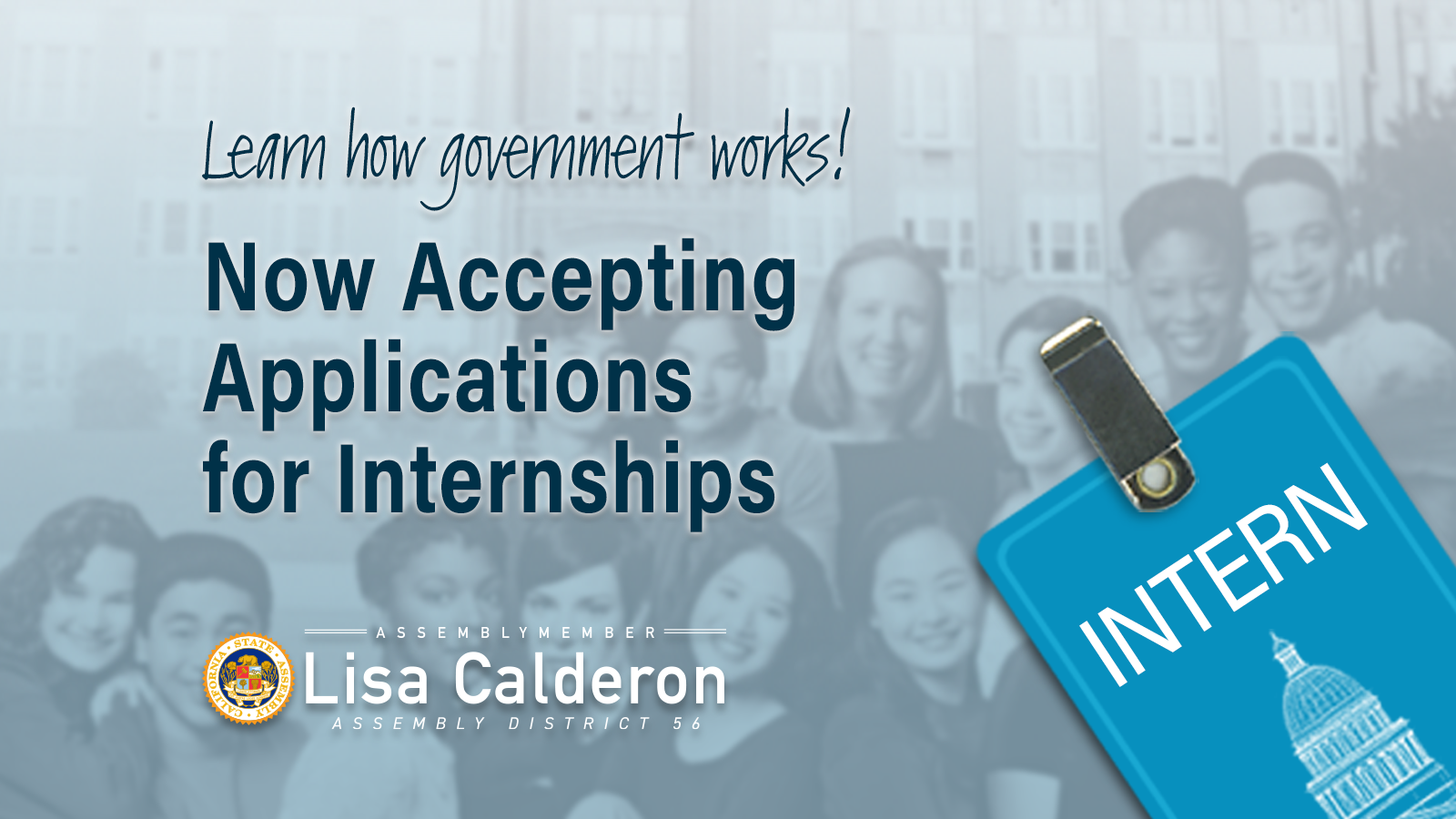 An internship in my office can offer college students a unique opportunity to participate in and experience the work of a State Assembly office. The program exposes students to district office operations and the local activities of a legislator's work. These experiences include working with constituents, conducting community outreach efforts, assisting community-based organizations, organizing civic events and projects, database development and upkeep, staffing the office, and other activities.
Many legislators and senior policy staff began their careers by interning in a district office. It is an invaluable way to gain a true understanding of California's democratic process, as well as an excellent opportunity to make important contacts while serving the community.
Internships are available to all part-time or full-time, detail-oriented, and motivated Junior/Senior high school students or college students. Applicants should have the ability to prioritize, multi-task under tight deadlines, work well with others, and maintain a positive attitude. Bilingual speakers are encouraged to apply. An interest in community service, government, and helping people is necessary.
Depending on the college program, students may also receive different types of school credits for participating as an intern. Interns will gain valuable education and work experience by fully participating in a set amount of agreed-upon hours of work. All internship work is voluntary, and students will not receive monetary compensation.
Interns are required to volunteer at least 10 hours a week. The hours are flexible and can be arranged Monday through Friday from 9 a.m. to 5 p.m., with an occasional Saturday or Sunday for special events.
Duties and Responsibilities:
Assorted office tasks such as answering phones, sorting mail, filing, data entry, etc.
Helping constituents
Staffing booths at community events
Researching legislation
Assisting staff on special projects
Assisting staff with district media
Attending events with members of the district staff or the Assemblymember
Working on district-based projects of importance
Weekend and/or evening activities (schedule permitting)
Complete the information below to begin the application process. You may also fill out this form and submit it to my office via mail or electronically via email.