Dec 2021: A Year in Review
2021 is coming to a close and there is no better time to reflect on the work that was accomplished this year and start planning how to tackle the next. As 2022 fast approaches, let's take a look at my office's legislative and budget achievements, constituent services, and how to stay healthy as we gather for celebrations.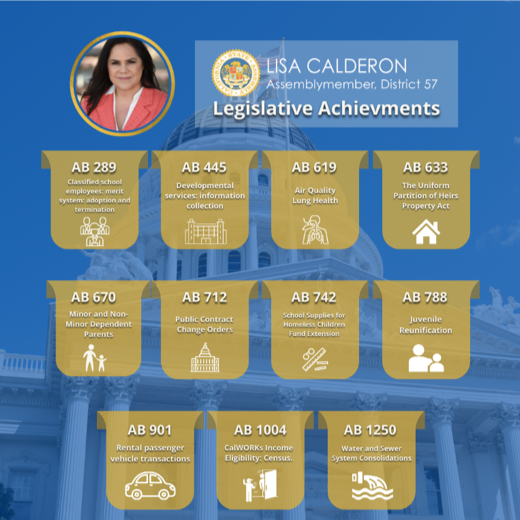 Year in Review – Legislative Achievements
Hundreds of bills are introduced across both chambers of the legislature and this year was no different. This legislative year, I introduced legislation that focused on helping our most vulnerable populations, increasing lung health protections during wildfires, extending the Homeless Tax Fund through 2029, keeping foster families together, supporting asylees transition, and much more.
I am pleased to share that I was able to have 11 of my bills signed by the governor during the 2021-2022 legislative session: from supporting youth experiencing homelessness and those living in the foster care system, to passing legislation to protect the lung health of Californians from severe air quality events, like wildfire.
Here is a bit more information on a few of my priority bills:
AB 619: requires the California Department of Public Health to develop recommendations and guidelines for counties to use during a significant air quality event that increases the presence of harmful particulate matter, such as a wildfire. It also requires counties to incorporate these guidelines in their next emergency plan and provide lung health-related information to the public.
AB 742: extends the sunset date for a program known as the School Supplies for Homeless Children Voluntary Tax Contribution Fund to January 2029. When filing taxes, Californians can opt to extend a voluntary contribution to assist students experiencing homelessness with resources to continue their education with the necessary classroom materials.
Read more about my other bills.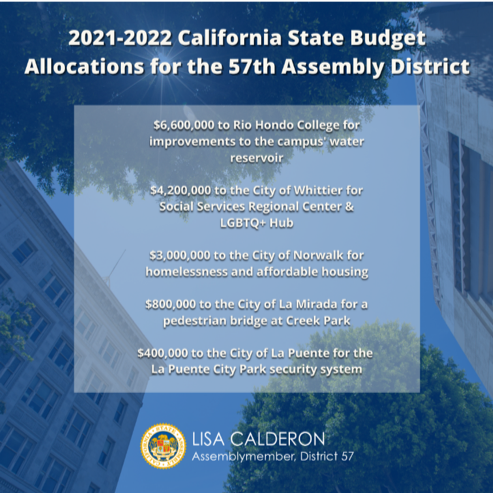 Year in Review – Bringing Resources to My District
As an Assemblymember, it is my priority to make sure I am bringing resources directly to my district.
With the support of my democratic colleagues and the Governor, the Legislature passed a balanced budget to avoid cuts to our schools and ensure all of our essential programs would remain in place. This feat was only possible because California had built up a rainy day fund over the last 10 years for a time like this.
My colleagues and I also passed a number of important laws. One of particular note was a piece of legislation that added protections for renters affected by COVID-19.
In working with the Chair of the Budget Committee, I was able to secure $15 million of funding in the budget for infrastructure projects and vital regional services in my district. Moreover, I was able to secure an additional $8 million for services to those granted asylum to provide asylees with assistance as they transition to life in California.
In the new year, I am looking forward to continuing to collaborate with our local cities and agencies to continue to bring in funding for vital services.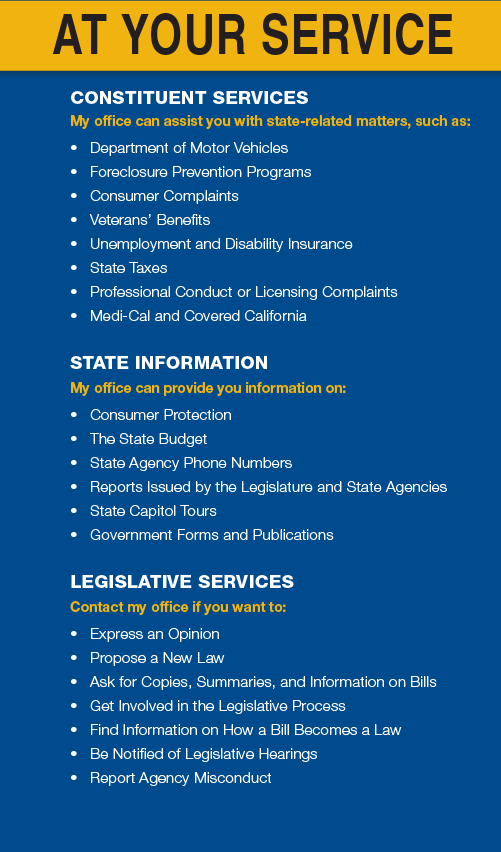 Year in Review – Constituent Services
Whether you are a small business or a resident in need, my office is always available to assist constituents with resolving a state issue.
Along with my staff, serving each one of our constituents continues to be at the forefront to work as your liaisons with the CA Employment Development Department, CA COVID-19 Rent Relief Program, CA Dept. of Social Services, CA Dept. of Public Health and much more. We are proud of the work our local community based organizations and nonprofits have done to ensure our residents have access to food pantries, vaccines, clothing, and much more this holiday season.
This year, around 2,000 constituents had cases resolved by my office and small businesses throughout the 57th Assembly District received $17 million in COVID-19 Grant Relief funding.
In 2022, I look forward to continuing to meet the needs of my constituents.
Holiday Travel Safety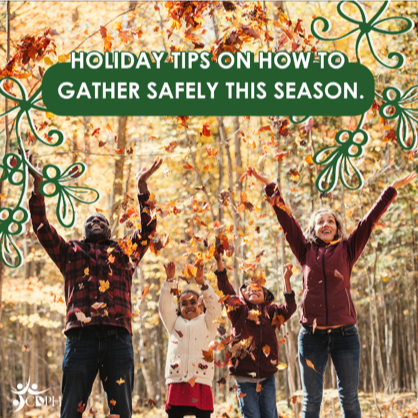 Tiny airborne germs that remain in the air when someone breathes, talks, sings, coughs or sneezes may cause COVID-19. While you gather with friends and family for the holidays, keep the following tips from the California Department of Healthcare in mind to help prevent the spread:
Get Vaccinated, Including a Booster Shot if you are Eligible
Vaccines are the best way to end the pandemic and they prevent COVID-19 illness, hospitalization and death. They're safe, effective and free. Learn more about COVID-19 vaccines and visit MyTurn.ca.gov to get vaccinated.
Stay Home if You're Sick
Anyone feeling sick, even with mild symptoms (sore throat, cough, sniffles), should stay home, isolate from others, and get tested.
Get Tested Before and After Traveling or Gathering for the Holidays
Know Before You Go
Get tested 1-3 days before a family gathering, or prior to any travel, even if you have no symptoms. Antigen testing should be done 24 hours prior to a gathering or travel. PCR testing should be done within 72 hours – with results available prior to a gathering or travel. There are no out-of-pocket costs to get tested. Visit a state testing site or call (833) 422-4255. Learn more about types of COVID tests.
Know When You Return
Test upon returning from the holidays. Test again 3-5 days later.
Also Consider the Following:
Take precautions if some in your group are unvaccinated (e.g., wear masks and socialize outdoors).
Be sure to wear a good mask, that fits well. N95 and KN95 or surgical masks do the best job filtering out viruses and particles.
Gather outside or increase airflow in indoor spaces.
Older Adult Services from the California Department of Aging
A part of the California Health and Human Services Agency, the California Department of Aging (CDA) administers programs that serve older adults, adults with disabilities, family caregivers, and residents in long-term care facilities throughout the State.
Use this checklist to determine which resources can best serve you or your family today: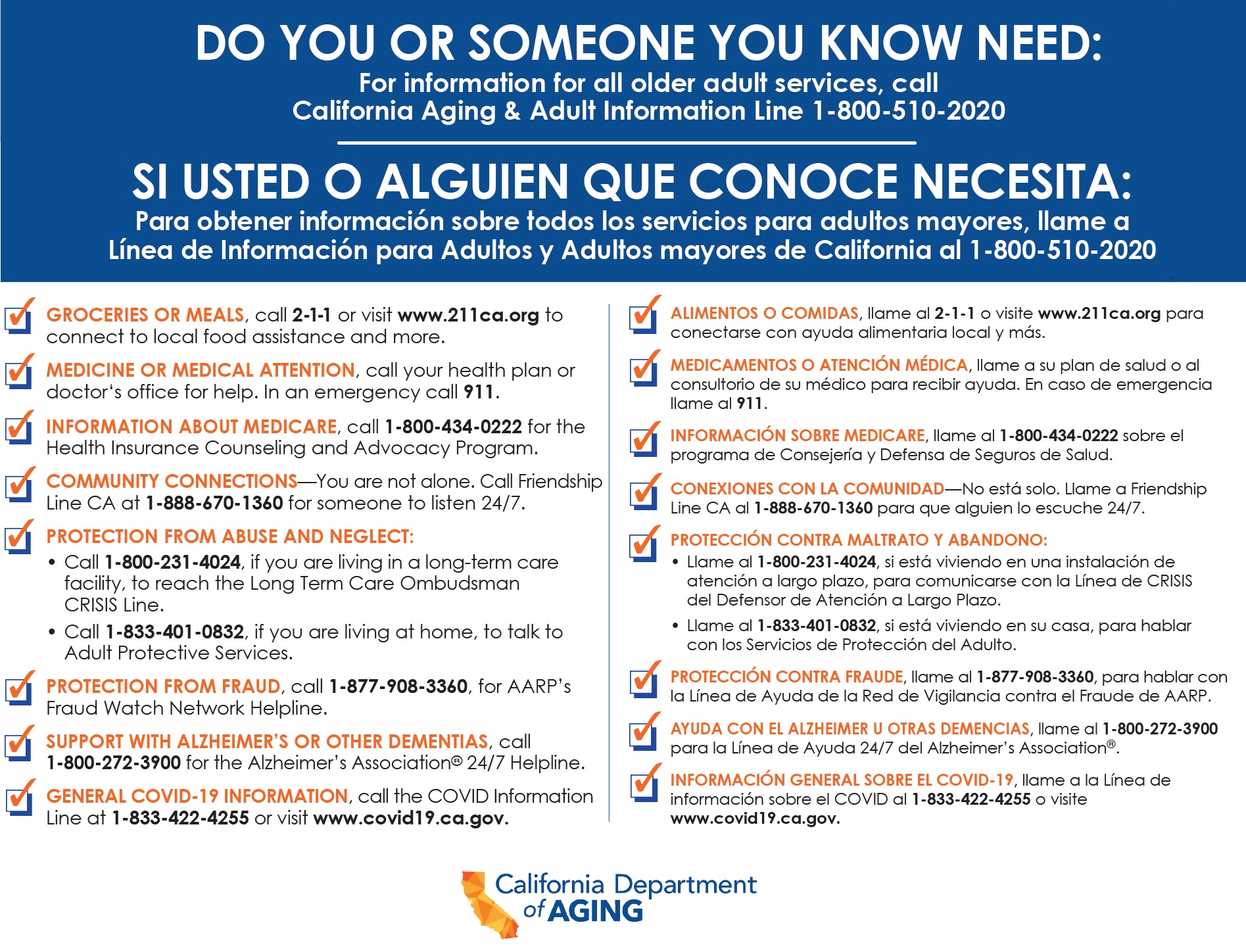 Seasons Greetings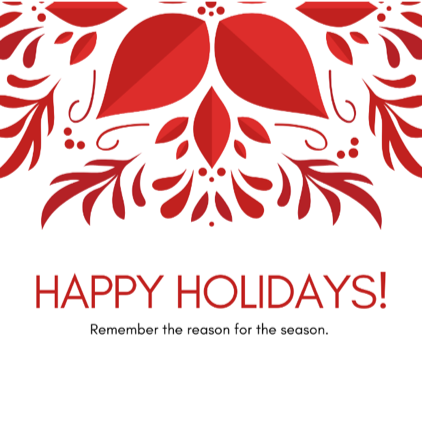 To close, I am grateful to serve the residents of the 57th Assembly District. I look forward to working for you in the upcoming year on the issues impacting our communities.
Enjoy the remainder of 2021 and the many holiday celebrations the month brings.
May the New Year bring prosperity to you and your families!